It's December - the time of the year where Christmas is here! Most consumers celebrate the season by going on a shopping spree, buying gifts, going on holiday, and having a large Christmas dinner with friends and families. It is the month where everybody feels relaxed, happy and enjoyable!
However, do you know that there is a dark side to Christmas?
If no, get your eyes peeled as you see below:
1.
China's Christmas Village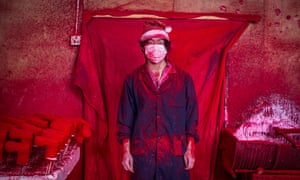 Christmas Village is located at Yiwu, China. It is home to 600 factories that churn out more than half of all the world's Christmas decorations and accessories, from glowing fibre-optic trees to felt Santa hats.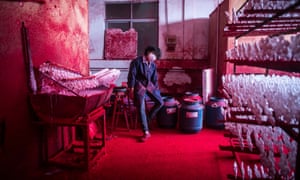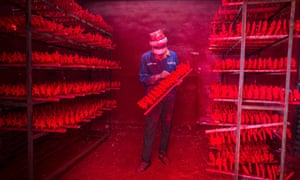 The migrant labourers work 12 hours for only a meager

£

200-

£

300 a month. They work long days in the red-splattered lair, taking polystyrene snowflakes, dipping them in a bath of glue, then putting them in a powder-coating machine until they turn red, repeating the process to make 5000 of the things every day.
Worse still, the workers had to breathe in the dust, bear with fine crimson powder landing on their head to toe, and causing their hair to turn red.
When we are happily shopping, remember that these migrant workers are slogging behind the scenes.
2.
More Turkeys Killed Faster than Ever


Christmas celebrations are the cause of considerable cruelty.
For turkey manufacturing industry, Christmas is the busiest time of the year. In the peak production period run-up, 100 birds are slaughtered every minute, meaning 50,000 turkeys are killed everyday to provide frozen and fresh turkeys for the Christmas dinner table.
Seasonal Slaughterhouses are used in this case and many turkeys are killed by having their necks dislocated, and studies showed that this does not usually kill them instantly.
When you are happily eating turkey on your plate, this is what happens behind close doors.
3.
Record Number of Pets Abandoned
Christmas is the "worst ever" for abandoned pets.
Puppies are abandoned as unwanted Christmas presents and charities are inundated with cats and dogs during this festive period. The charity's cruelty advice line never stop ringing and received an average of more than 1,500 calls each day about animals being hurt, neglected or abused.
Volunteers also gave up much of their free time to help the cats and dogs in need over the holidays.
When you are enjoying company in your own home, these dogs are dumped and made homeless.
4.
Christmas, a supposedly peaceful holiday, is in fact the most dangerous time of the year.
Drink-driving, assault and burglary are just some of the crimes police deal with on Christmas Eve. There are more crimes committed during the month of December that are observed to be rampant in many malls.
The crime rate in terms of larcenies go up during Christmas because people can't afford certain things or want to have a nice Christmas for someone else.
Crime rate is at peak especially where there is a crowd celebrating Christmas season and Christmas gifts make an attractive target for thieves.
Even in Africa, the crime rate jumps at this time of year because people are desperate to provide something extra to meet their families' expectations of new clothes and good food on the table.
Rome also cited crime rates at its peak during the same season, where Roman courts were closed and no one could be punished for damaging property or injuring people. This implies that some Roman can deliberately do crimes during the period.
When you are shopping at peace, other people elsewhere are having their happiness stolen and robbed.
5.
Severe Weather
Tornadoes are some of the wild weather seen worldwide over the Christmas holiday period.
Gale-force winds and heavy rain hit the Christmas getaway for road, rail and air. Hundreds of homes were wrecked. Fallen overhead power lines left thousands without electricity.
The New Mexico city of Roswell recorded 12.3 inches of snow on Christmas - an area record for a single day, that results in highways with difficult driving conditions.
Flash flood happen in eastern Missouri and Southern Illinois over the Christmas weekend. Torrential downpours forced dozens of adults and children from their homes to seek refuge at Red Cross shelters.
Other countries struggled with unseasonably high temperatures around Christmas.
New York City broke the record for the warmest Christmas in history.
Temperature in Central Park reached 66
°C,
breaking the previous record of 64
°C
set in 1982.
When you are experiencing minor weather on your side, other countries are having it worse.
6.
Guess who still had to work on Christmas?
Service sectors!
FedEX employees, especially drivers are working extra shifts to handle the surge in online shopping in the busiest delivery weeks of the holidays. For unforeseen late deliveries of Christmas gifts, other Express employees also volunteered to work extra shifts on Christmas Day to satisfy customers' needs.
During holiday season, you still see retail shops, restaurants and transportation operating. Those are the
workers
who work on Christmas Day.
When you are enjoying your holiday, there are still people who are working non-stop to serve you.
7.
Indeed, the disposal of unused food reaches a peak over the Christmas.
According to figures by Love Food Hate Waste campaign, we throw out an equivalent of 2 million turkeys, 5 million Christmas puddings and a shocking 74 million mince pies for Christmas, meaning we are binning nearly twice as many mince pies as retail giant Marks & Spencer sells every year.
Over a third of households also admitted to throwing away more food at Christmas than any other time of the year. As they want to appear less stingy, they tend to overbuy and cook far more than they need to.
Whenever you can't finish the leftovers, you are wasting food and money.
8.
Heaviest Congestion
Christmas is the worse time to drive.
December 21 and 22 are the year's peak dates for the great Christmas rush, with more than 4 million motorists expected to take to the nation's busiest road for the festive break. Motorists faced lengthy traffic jams with delays up to 3 hours and disrupted rail journeys.
The heaviest congestion resume again from December 27 and January 4 due to sales shoppers and those returning home after spending Christmas away.
When you only live opposite your family, think about those who go through hours to meet them...
9.
In the run-up to Christmas, shoppers are being faced with soaring prices as retailers increase the price of must-have toys.
Retailers such as
Tesco
increased the price of Furby Boom from
£
49.99 to
£
54.99, while
Toys R Us
increased the cost of the Teksta robot puppy from
£
47.99 to
£
59.99 for the last weeks of festive shopping.
This practice is known as 'scalping' where shoppers end up paying up to 50% more for must-have toys as retailer tap on demand to maximize profit. It's a very merry Christmas for everybody except the consumer.
Instead of busily spending to make others happy, think about how there are better ways.
10.
Attacks on Christmas masses have "huge symbol value" for terrorists, and Christmas shoppers are most at risk of Paris-style attacks. The November 13 terror attacks in Paris cast shadow over festive cheer.
Security are ramp up at churches over fears they might be targeted by "battle-hardened" terrorists over the Christmas period.
When you're thinking of what Christmas gift you want to receive, did you realize safety is the answer?
There is a dark side to every good side.